We're sitting at lucky number 13 on this months Doom Charts.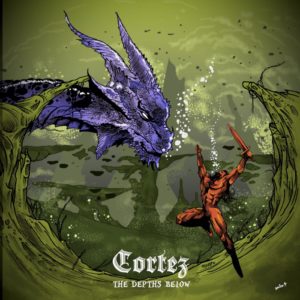 13. CORTEZ – THE DEPTHS BELOW
Let's take a trip with the Boston quintet Cortez. Let's have them drag us down with them to 'The Depths Below'. I reckon we can safely state that most of you freaks out there already dug their earlier releases. Well, get ready to profess your undying love for these guys. Turning a much more metallic corner on some tracks, the fuzz, the grunge and the stoner that Cortez brings is simply amazing. And then there are those more pop sensible, almost catchy moments.
Yes, there is something about this record that screams 'instant classic'. Vocalist Matt Harrington truly shines on every track and together with the killer choruses, massive riffs, dueling guitars and majestic drum work, there is absolutely nothing wrong with Cortez… Shit, where is the closest grimy tattoo parlor, so I can get Cortez tattooed across my heart!
~ Joop Konraad (Stoner HiVe)