Boston, MA heavy rockers CORTEZ release the digital single "Walk Through Fire" in advance of their new album The Depths Below. The single features artwork by Joe Keinberger and is available via the CORTEZ bandcamp page: cortezboston.bandcamp.com.
CORTEZ' sophomore full length The Depths Below will be released via Salt Of the Earth Records on CD and digital formats on June 16, 2017. The band's first full length since the 2012 self-titled, features nine songs and clocks in at 45 minutes. Running the gamut from heavy rock to NWOBHM-influenced metal songs, The Depths Below is sure to surprise some longtime fans of the band with its variety. The Depths Below was recorded and mixed by Benny Grotto (Scissorfight, Orange Goblin, Worshipper) at three different studios (Q Division, Mad Oak, and Moontower Recording) and was mastered by Jeff Lipton at Peerless Mastering. The cover art for The Depths Below is courtesy of David Paul Seymour.
For preorders, visit: saltoftheearthrecords.com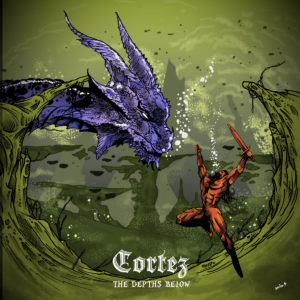 The Depths Below Track Listing:
1. All Gone Wrong
2. Poor And Devoid
3. Walk Through Fire
4. The Citadel
5. Blood Of Heirs
6. To The Skies
7. Kill Your Ghosts
8. Dead Channel
9. Orison
CORTEZ is:
Matthew Harrington – vocals
Scott O'Dowd – guitar, backing vocals
Alasdair Swan – guitar
Jay Furlo – bass, backing vocals
Alexei Rodriguez – drums
Jeremy Hemond performed all drums on The Depths Below.
http://www.cortezboston.com
http://www.facebook.com/cortezboston
http://cortezboston.bandcamp.com
http://www.saltoftheearthrecords.com
http://www.facebook.com/SaltOfTheEarthRec